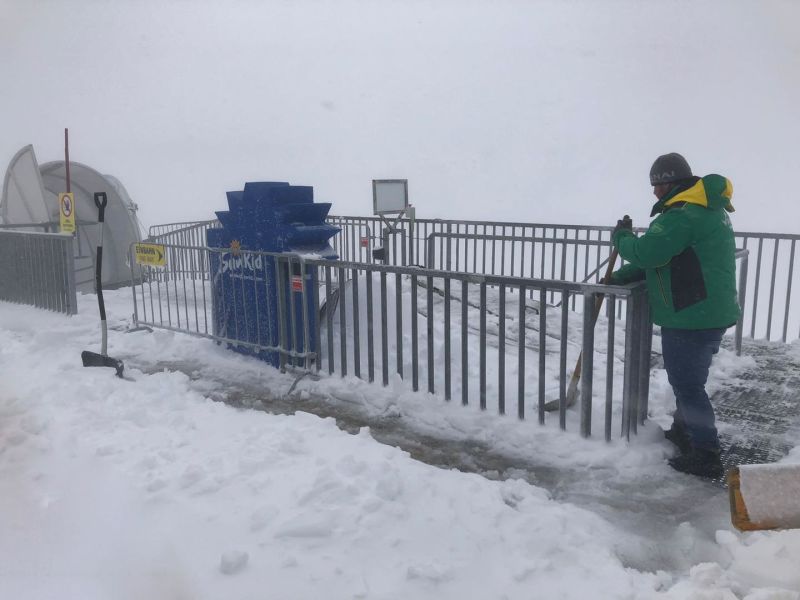 Alpine glaciers are having what several glaciologists are saying is their worst summer yet in terms of rapid thawing due to unprecedented heat.
However there is a small amount of respite today with two to six inches (5-15cm) of snowfall reported on many glaciers after temperatures finally dropped from their recent highs. The Dachstein glacier in Austria is pictured this morning. These have seen double digit plus temperatures at 3,000m and the 'freezing point' going above the highest peaks for prolonged periods on numerous occasions since May.
The most catastrophic result of these conditions in the short term was the collapse of part of the
Marmolada
glacier, a former summer skiing area, in Italy last weekend leading to a number of deaths among climbers in the area at the time.
Now the only French glacier ski area still open, Les 2 Alps, has announced it is ending kts summer ski season before its half way point following
Tignes
which closed less than two weeks after opening and Val d'Isere which decided not to open at all.
It means only three glacier ski areas will be open in the Alps next week – the lowest number since summer skiing gained popularity 50 or so years ago –
Hintertux
,
Zermatt
and Passo Stelvio.