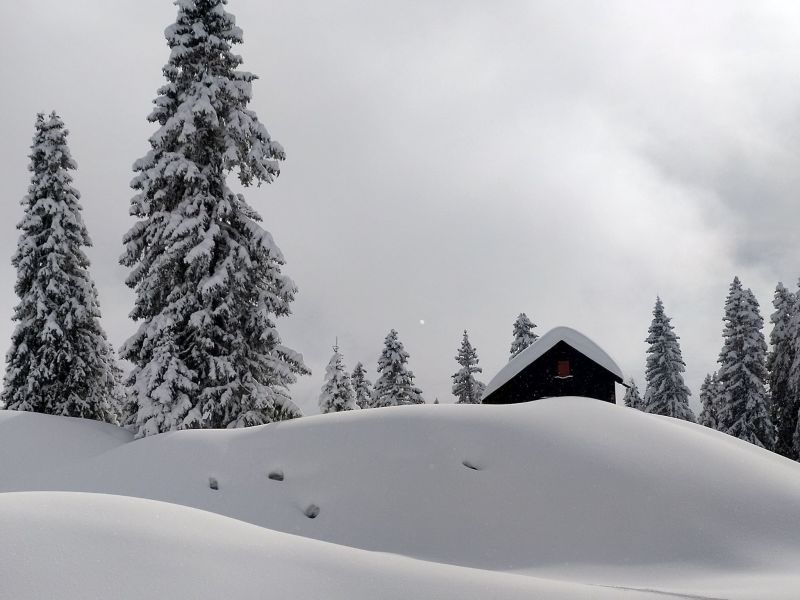 With the latest fall of heavy snow starting to hit the Alps with several areas forecast to potentially get another metre of snow by Monday evening, it seems time to stop reporting on when it is going to snow heavily, and start reporting on when it isn't going to snow heavily, as the latter is the rarity in January 2019 in the Eastern Alps it seems.
Currently Tuesday January 15th is looking like it won't see so much snow across the Alps after the next big snowfall ends. Wednesday the 16th is also looking pretty good in most areas before the next snowfall moves in on Thursday.
Ski areas in Austria and Switzerland have been reporting up to 80cm more snow in the past 48 hours with
Braunwald
in Switzerland (pictured top) reporting 81cm,
Kandersteg
74cm and
Adelboden
73cm in that period. All are likely to get another metre plus of snow over the coming week, much of it on Sunday and Monday.
Meanwhile the world's deepest reported snow base this season has reached 5 metres, also in Switzerland, at
Andermatt
.
Avalanche danger levels are currently at 3 ('considerable') to 4 ('high') in most of the Eastern Alps but avalanche warning agencies say these are likely to rise further with the latest heavy snowfall and strong winds forecast.
The snow over the next few days will not be confined to the Eastern Alps however and some forecasters are pointing to big accumulations in the parts of the French Alps too as well as Western Switzerland with 60cm (2 feet) plus possible.
The
Portes du Soleil
,
Chamonix
Valley and
Grand Massif
regions are forecast to see some of the biggest accumulations.