J2Ski Snow Report 27th December 2019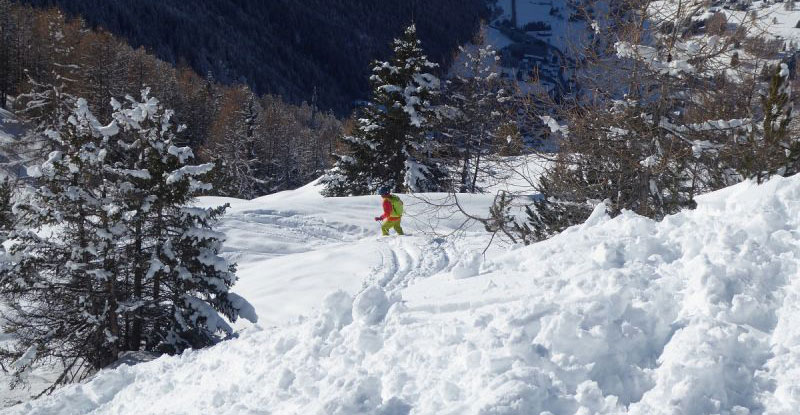 Thanks to J2Skier Sleekpony, for this picture; getting stuck in above Champoluc, Italy last week.
More snow, but clearer days coming for Europe...
The Snow Headlines - 27th December
-
Les Arcs
and
Tignes
, high Alpine resorts report more than a metre of snowfall in 7 days.
- Cold and snow at last for Eastern Europe;
Borovets
opens for the season.
-
Banff
, Panorama, and other Canadian resorts report more than a metre of snow last week.
- Swiss resort reports 1.4 metres of snowfall in 72 hours.
It's been another very snowy period in the Alps from the start of last weekend through to Tuesday/Wednesday this week with huge accumulations reported at some areas, but most resorts reporting at least 20-40cm of snow and a good many quite a lot more.
The big winners were higher ski areas with slopes above 2000 metres, with Les Arcs and Tignes both passing the metre mark on Monday. Many lower, traditional resorts also reported at least some snow down to the valley.
There have been plenty of "mixed weather" issues, however - strong winds, sometimes warm temperatures, and occasional rain has affected the snow pack in some areas, and off-piste instability has resulted in high avalanche danger levels.
On the positive side most resorts have been able to open most of their terrain and with the weather calming down over Christmas and Boxing Day skiers have been able to enjoy extensive terrain opportunities and good conditions at most resorts.
It's a positive picture too in the Dolomites, Pyrenees, Scandinavia and even in Eastern Europe, which had been suffering from warm temperatures; many of the better-known resorts have had some good dumps too. In Scotland most centres are open and temperatures mostly low even though there's not much terrain skiable yet.
Glencoe suffered a serious fire at the base station on Xmas Day, but was hoping to open for at least some skiing today.
Over in North America, successive storms have hit the West of the country bringing huge snowfalls to Alberta and BC in Canada and along the Pacific Coast in the US. Less snow, but some, and generally good conditions in the Eastern US too.
In the Alpine Forecast
A clearing forecast for the Alps, with a warm few days for the western Alps, and colder weather to the East, with scattered snow - some heavy - today. Generally clear for the next week or so, with little snow in the immediate forecasts.

Snow at last for Japan...
Re-publication :- our Snow Report Summary, being the text above this line, is free to re-publish, but must be clearly credited to www.J2ski.com with text including "J2Ski Snow Report" linked to this page - thank you.
EUROPEAN ALPS
Austria
It's a very white Christmas in Austria with ski areas here seeing some of the snowiest conditions of the winter so far over the past week. The problem the country has faced with warm temperatures and little snow cover on low slopes has eased considerably with snowfall down to the valley floors this last week.
Up high the snow depths just get better and better with glacier areas at or near 3 metre (ten-foot) bases. Generally, though Austrian ski areas are at least two-thirds open for Christmas / New year, making it officially a good season start. In the
Arlberg
region, for example, the snow is lying 60cm - 150cm (2-5 feet) deep and about 170km of the 300km or so of slopes there are open.
France
It's been a very snowy week in France with several resorts, including Les Arcs and Tignes, reporting more than a metre of snowfall in 72 hours over the weekend. Lots of areas now have more than 2 metres of snow depth on their higher lopes. It has eased off now although Les 2 Alpes reported another 30cm on Christmas Eve.
Val Thorens, which has had more than 60cm (two feet) of fresh snow reports it has more than two metres of snow lying on its lower slopes, as well as its higher ones, so is looking good now for its season through to May 2020!
Italy
Italy too had a pretty snowy weekend, if not quite seeing the numbers reported over the French border. Base depths here include the world's deepest (4m) on the
Presena
Glacier and a number with around 3 metres (10 feet) lying including Cervinia.
The latest snowstorms brought 20-60cm more snow over the weekend, the heaviest in the northwest of the country, but there's fresh cover almost everywhere and most Italian resorts are fully open (or nearly so) for Christmas and new year.
Switzerland
There have been some huge snowfalls in the Swiss Alps with Les Marecottes ski area reporting an incredible 1.4 metres of snowfall between Saturday and Tuesday and several other areas reporting more than 90cm (three feet) of snow in the same period.
Here too conditions are generally great but the avalanche danger is also high. The Andermatt-Sedrun connection is now open with 30cm of fresh snow here and the resort reporting the country's deepest base at 350cm (nearly 12 feet).
Scandinavia
Finland, Norway and Sweden kept getting dumped on when the alps were dry earlier this month and not much has changed since it started snowing again in the Alps, except perhaps a little less heavy snow. But most of Scandinavia's slopes are in great shape under the floodlights during the darkest week of winter.
Norway's
Hemsedal
reported a 20cm snowfall and powder conditions just in time for Christmas.
Pyrenees
It was a snowy few days at the end of last week and in to the weekend in the Pyrenees with several areas on the French side closed for short periods by strong winds and heavy snow. The consequence, once the storm passed, was of course still deeper bases and fresh snow. It's been mostly sunny since the weekend and unfortunately a little too warm (5-10 degrees above freezing) at times in places but on the whole, the picture is good with most terrain open and temperatures due to drop into the weekend with the possibility of more snow for New year.
Scotland
It can't be described as a vintage Christmas on Scottish ski slopes but at least all five Highland centres have some terrain open (assuming
Glencoe
managed to open today, after a fire there). This is largely thanks to all-weather snow-making systems all five centres now have.
It has been mostly cold the past few weeks again and there has been some snow (and some rain) but several areas including Glencoe,
Glenshee
and
Nevis Range
have a few regular ski runs open too with so far thin cover.
Eastern Europe
Things have turned much colder in Eastern Europe at last and in Bulgaria, where it was double digits above freezing a week ago, it's double digits below now so the thawing has stopped and the snow-making machines turned up to max.
There's lost ground to recover from the start of the 19-20 season but Borovets has now opened and
Bansko
has more terrain open although despite some fresh snow its base depth has dropped from 80 to 70cm since last week, presumably down to the warm temperatures before the snow arrived. No snow forecast at present but low temps so no more thawing and lots of snow-making.
North America
Canada
It's now settled down at sub-zero across Canada, even on the East and West coasts which suffered an unseasonably warm autumn. The cold weather has allowed snow-making systems to fire up in Eastern Canada, where the start of the season proper is running late, whilst there have been some healthy dumps of snow on the west coast of BC, although resorts like
Whistler Blackcomb
are still way behind their usual snowfall totals for this point in the season.
The good news there is a few feet more snow is forecast over the coming weekend. Inland in central and Eastern BC and over the border in Alberta, it's been a great season so far with tonnes of snow and more falling and forecast. Panorama and Banff have both had over a metre in the past week.
USA
Conditions are good across pretty much all of the US for the Christmas/New year holiday period. The last area that was suffering from warm/wet weather – the Northwest corner around Washington state and Oregon, has been dumped on over the past week leading resorts there that had delayed opening until now, to open at last for Christmas week.
Elsewhere the main ski states – California, Colorado, Utah and Wyoming all look pretty good. There are a few that are still catching up after poor conditions in November and earlier this month - the country's biggest ski area,
Park City
in Utah, is only about a third open - but on the whole ski areas are offering much more of their terrain open.
We'll be back with more detail on our usual Thursday slot next week... enjoy your weekend!