J2Ski Snow Report 12th November 2020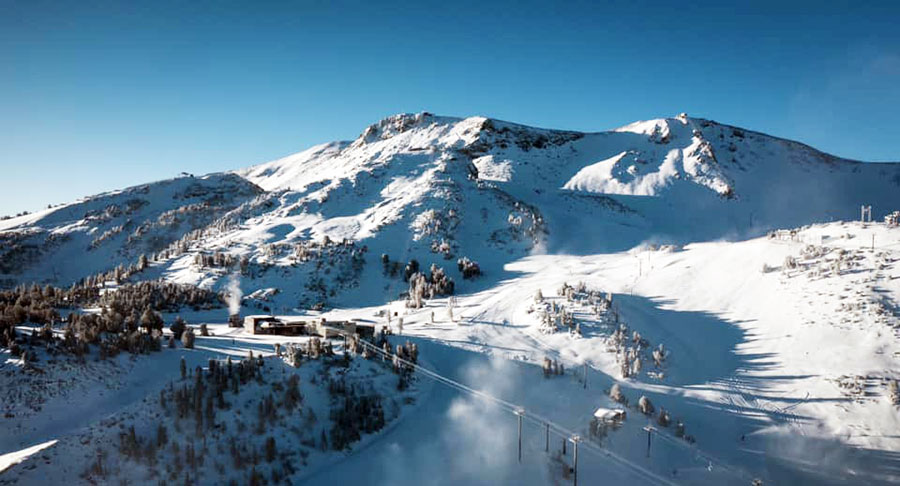 Mammoth Mountain, California, which opens tomorrow!
Switzerland's the place to go in Europe, with more ski areas opening in the USA.
The mountains are waiting for us... please stay safe and respect local advice on travel. We can't all go skiing just yet but we can still dream!
The Snow Headlines - 12th November
-
Keystone
in the US, Crans Montana in Switzerland,
Nakiska
and Sunshine in Canada open.
- World Cup in Austria this weekend postponed, next leg (Finland) still on.
- Three Italian ski areas open to racer training, but now closed to public.
- Heavy snowfall in California, Colorado and rest of Western US; up to 28 inches/70cm.
- 11 ski areas open in Switzerland at weekend (no lockdown there).
- Number of ski areas open in North America now in double figures.
-
Andermatt
sells out of lift tickets, again, with limited numbers allowed.
It has been a quiet week in most of Europe for pre-season weather with mostly sunny skies and little precipitation. The Pyrenees probably had the best of it in the past seven days with another good fall at the end of last week.
Attention is focussed on the pandemic, however, and the question of whether November lockdowns will end at the end of the month and allow ski areas to open from the start of December. So far the jury is out on that one.
After a bit of a lull in the winter weather and some warm temperatures in Western North America it's been much colder, with good snowfalls, on mountains right across the west from Alberta to New Mexico.
More resorts have opened in Colorado (
Arapahoe Basin
, Keystone, Loveland) and Alberta (Nakiska, Sunshine) and the first in California is due to follow any day now.
On the other side of the Pacific in Japan, more areas have been opening runs using all-weather snowmaking machines but things are looking promising for the start of the main season with a 40cm snowfall reported in
Niseko
. They'll be hoping for no repeat of last year's warm and dry start to the season.
For those who still dare to dream of still more exotic destinations, we've been told by Shymbulak Mountain Resort in Kazakhstan that they plan to open next Monday 16th, with social distancing of course.
In the Alpine Forecast
Generally mild and settled for the week ahead, with possibilities of cooler weather in the long-range forecasts.

Snow incoming for the USA this week...
Re-publication :- our Snow Report Summary, being the text above this line, is free to re-publish, but must be clearly credited to www.J2ski.com with text including "J2Ski Snow Report" linked to this page - thank you.
Europe
Austria
There would, of course, be about eight glacier ski areas open in Austria this week if the country were not in a November lockdown.
Mid-November is also when some of the higher, more snow-sure resorts like Obergurgl and
Obertauern
, tend to open for the season in a normal year. As it is, everything is closed until at least December 1st and reports this week indicate some areas, including
Ischgl
which normally makes a big event of its late November opening, don't now plan to open until mid-December for the main season even if allowed to open sooner.
As to the current weather – mostly dry and sunny in the Austrian Alps – glaciers have been posting tantalising images of near-perfect conditions...
France
It's November lockdown, and sadly high case numbers, in France too. That said, there seems to be confidence, in public announcements at least, that resorts will be opening at the start of December, and for the majority that normally open in December anyway, they're so far sticking to planned dates.
Only
Tignes
would normally be open this week and next anyway;
Val Thorens
had been hoping to open the weekend after next but that's obviously now on hold.
Here too there's been largely good weather, although the French Pyrenees reported heavy snowfall again late last week.
Italy
Italy is also in lockdown but may be the first to end it in a few weeks, although there are also reports of cases increasing in some ski regions.
The two centres that had stayed open to the public when Cervinia closed a fortnight ago (
Val Senales
and Sulden) have now done the same, ending general opening on Sunday. However all three areas are still operating lifts and grooming ruins – but just for ski team training.
Switzerland
Switzerland is really leading the way in Europe with an 11th ski area opening for the season at the weekend following the country's decision
not
to go into a November lockdown, unlike most of its neighbours and despite having some of the highest numbers of virus cases per population numbers, according to reports.
Crans Montana opened its glacier slopes joining Andermatt,
Arosa
,
Davos
,
Engelberg
,
Gstaad
(Glacier 3000),
Laax
,
Saas-Fee
, St Moritz (
Diavolezza
Glacier),
Verbier
and
Zermatt
. With the ski slopes over to Cervinia from Zermatt currently closed following their brief opening and closure again on the last weekend of October, before Italy's lockdown, Saas-Fee is believed to have the most terrain open in the country, and currently the world, with 40km of runs open.
Despite warmer weather, last week conditions on the glaciers/high slopes are reported to remain excellent.
All of the Swiss centres are stressing the importance of abiding by the pandemic safety rules and some including Andermatt have various limits in place on numbers on the slopes and/or in lift cabins. Andermatt sold out of tickets for the second successive weekend last weekend.
Although not in lockdown, restrictions in Valais have been tightened with most restaurants closing although resorts are stressing that hotels and hotel restaurants remain open and many restaurants are doing meal delivery services.
Scandinavia
Scandinavia reported some warmer weather in the past week and a number of areas that normally open in late October or early November have delayed doing so, so far.
However things are still moving forward;
Ruka
and
Levi
are open in Finnish Lapland, the latter now due to stage the next round in the FIS Ski World cup the weekend after next. Two areas are also open in Sweden although with the closure of the final summer ski area that had still been open, Galfdhoppigen, none in Norway at present – for the first time since last April.
Pyrenees
The Pyrenees were the last area to see significant snowfall in Europe this month, with resorts in Andorra posting up to 20cm of snowfall at the end of last week, and good accumulations on the French and Spanish sides of the border too.
Scotland
After a fortnight of mostly rainy weather, the past week has seen some glorious sunny days in the Scottish Highlands. Although it dropped well below freezing overnight, double-digit Centigrade daytime highs have put paid to most of the early high-altitude snow cover. It's getting cooler again though and centres are testing out their all-weather snow-making systems.
Eastern Europe
Little sign of winter in eastern Europe and mostly warm, sunny autumn weather this past week. Clear skies have led to freezing overnight temperatures on the ski slopes but there's no snow lying at present. Larger centres have been testing snow-making systems with the season start for most 3-6 weeks away.
North America
Canada
We're up to five ski areas open in Canada now with Nakiska and Sunshine in Alberta opening on Saturday and Monday respectively, joining already open (since October) Mount Norquay and
Lake Louise
. That's all three
Banff
areas open now and reporting good conditions after a warm blip with cold temps and some fresh snow.
A fifth Alberta area,
Marmot Basin
up at
Jasper
, is due to open next this coming weekend. The other area open, over in Quebec, is Sommet St Sauveur, with a ribbon of snow down a green and brown hillside in unseasonably warm temperatures recently there.
USA
After a warm week last week for much of the US, the winds of change blew in towards the end of the weekend bringing heavy snowfall to much of the west of the continent. Ski areas in California, Colorado, Utah, Wyoming, Montana, New Mexico and Idaho all reported big falls over the first 48 hours of this week – many said they'd had a foot (30cm), some as much as 28 inches (70cm).
Keystone was the second Colorado ski area to open (before the snow arrived) last Friday, then Arapahoe Basin joined them on Monday and Loveland on Wednesday.
Wolf Creek
, already open since October, had one of the biggest snowfalls at the weekend – getting several feet more and opening more terrain.
Breckenridge
and Loveland expect to open over the next few days.
In California the season is due to get going imminently too with
Mountain High
and
Mammoth Mountain
both saying they plan to open too. More challenging conditions further east where the snow hasn't reached and hoped-for openings have been postponed but it is looking more promising for colder weather and snow here too at the start of next week.