J2Ski Snow Report 13th January 2022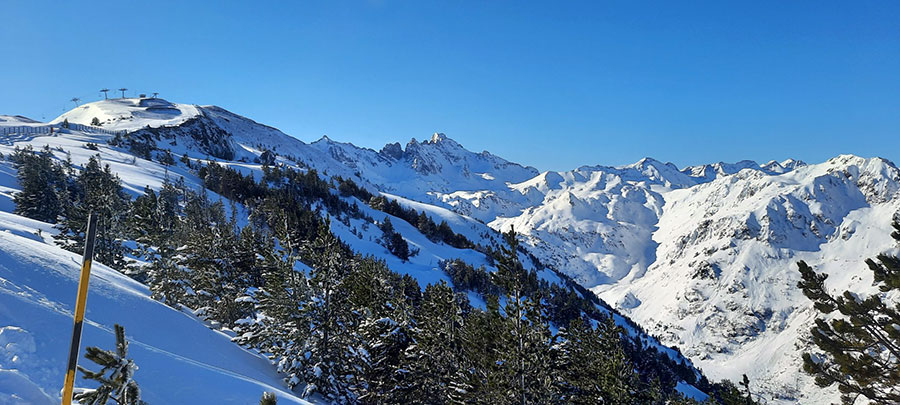 After the snow, the sun at Ax 3 Domaines, French Pyrenees...
France is ON (for UK skiers) at last...
The Snow Headlines - 13th January
- France re-opens for travellers from UK, from 14th January.
- Jackson Hole Report 5 Feet (1.5m) of snowfall in first 8 days of the year.
-
Nevis Range
in Scotland opens ski slopes for first time since March 2020.
- Heavy snowfall at last in Eastern US allows more ski areas to open.
- French Pyrenees ski areas have deepest bases in Europe at 3m/10 feet.
- Some US ski areas restrict terrain due to COVID staff absences.
- Huge snowfall totals are expected for western Norway.
-
Wolf Creek
digs up snowcat completely buried in 14ft/4 m Christmas-New Year storm.
We'll have further clarification on the easing French restrictions tomorrow.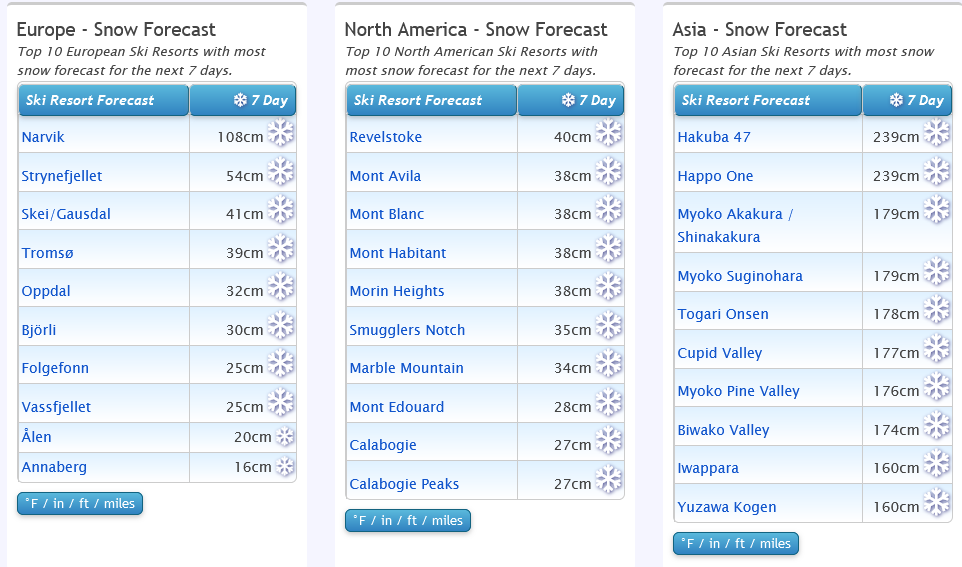 Incoming for Scandinavia and Japan is getting it big time...
Re-publication :- our Snow Report Summary, being the text above this line, is free to re-publish, but must be clearly credited to www.J2ski.com with text including "J2Ski Snow Report" linked to this page - thank you.
World Overview
Europe
Conditions are the best they've been for a month in much of Europe after successive snowfalls over the past week brought 20-60cm of fresh cover to slopes following a fairly dry start to 2022. The past week has seen temperatures close to -10C in many resorts and cold on the slopes although it is now rising closer to freezing.
North America
It has been another snowy week for much of North America as winter proper digs in, with snow across much of the continent.
There's been heavy snowfall in the Pacific Northwest, the Rockies and perhaps most importantly in the East where more southerly areas, in particular, had been suffering the most and the longest from warm weather and a lack of snow. They've had several feet now.
Temperatures have moderated in Canada although in the East it's 20-30 degrees below freezing. Snowfall has been driven in on gales at times which has caused issues including power outages, blocked roads and iced up lift cables but ski areas continue to battle to open as much terrain as they can. The omicron surge also continues to cause issues, including isolating staff meaning problems manning lifts at some resorts.
Europe
Austria
Austrian ski areas are in fairly good shape following the recent snowfalls at the end of the weekend and the start of this week. The warm weather at the start of the year is now largely forgotten and instead there's fresh snow, mostly cold temperatures (although it is climbing a little warmer down in the valleys in the daytime) and most areas are fully open – or just about.
Big areas like the Skiwelt,
Silvretta
and Saalbach all have 200km+ of slopes open although the
Arlberg
appears to only have a little over half of its 300km+ runs operational so far, despite posting apparently healthy top-to-bottom snow depth stats.
There has not yet been the 'big dump' Austria tends to get most Januarys though and currently it is dry and sunny. Snow depths are good enough to mean that's not a problem at present but glaciers will be hoping for some good snowfalls over the coming weeks and months to see them through their spring and summer operations later in the year.
France
There was some snowfall for French resorts over the past week with
Les Menuires
posting 20cm at the end of last week and Megeve a total of 40cm by the beginning of this week, giving the snow cover a refresh. These were typical totals across the French Alps.
Bases, particularly at lower elevations, are not yet fabulous, thanks in part to one of the warmest ends to December ever recorded, but extensive snowfalls earlier last month withstood the warmth and most French resorts continue to have 80-90% of their terrain open.
It has been sunny for most of the week now and is expected to remain so at least into next week.
Italy
Italy reported some fresh snowfall too although on the whole not so much as further north and west and it has been sunny all week and looks set to remain so through the weekend and at least up to the start of next week.
Temperatures are fairly cold though, below freezing much of the time and at most altitudes other than lower valleys, so resorts are happy that conditions on their groomed runs are excellent.
Most are fully open or just about so. A few of the big regions, most notably Via Lattea around Sestriere and
Sauze d'Oulx
has a smaller percentage of their terrain open and is reporting less than 50cm base, so will be looking for a fresh snowfall forecast.
Switzerland
Swiss ski centres have had a good week too with fresh snowfall at the end of last week followed by more at the start of this weekend.
Those not lucky enough to actually have been in Switzerland last weekend had the option to see the snow piling up at
Adelboden
as the World Cup slalom was run there on Sunday.
Engelberg is posting the deepest base in the Alps but snow cover is good across most of the country, especially on higher slopes, and everything is open. Since the snowfall at the start of the week, it has been largely sunny but has stayed below freezing, although it is now getting warmer.
Scandinavia
It's been very cold in much of Scandinavia with the kind of temperatures – 20 to 30 degrees C below freezing - where you don't want to be outdoors for more than an hour at a time.
That said, Finland's
Ruka
has begun its annual fortnight of illuminating its slope in colourful lights so that's something to see.
Most ski areas in the region are in fairly good shape although there have not been huge snowfalls yet. It's looking good through the coming weekend at Norway's coastal resorts like
Voss
which look set to receive a huge snowfall and as a result offer those powder conditions for which they're famous.
Pyrenees
The Pyrenees enjoyed a snowy start to the week with the first fresh snow of 2022 for many areas. The region was already in great shape with the deepest snowpack reported in Europe on the French side of the mountains after big falls a month ago. After a warm spell at the end of December, this refresh was very welcome.
Ski areas in the French Pyrenees are currently the only ones in Europe to have hit a 3 metre/10-foot base so far this winter.
Most ski areas are fully open, or almost so, which for areas like
Grandvalira
above
Soldeu
, Pas de la Casa and other villages in Andorra means more than 175km (110 miles) of slopes open and in Spain 160km (100 miles) at Baqueira Beret.
Scotland
Scottish conditions slowly improved until Wednesday when the latest very warm weather arrived. Since the warm period up to Christmas, it had been largely cold with occasional snow showers allowing a base to begin to rebuild and snowmaking to be fired upon occasion. All five centres have been able to open limited additional terrain, and most require online advance ticket purchase - with limited availability, these sell out fast.
The weekend saw excitement at Nevis Range above Fort William in the West though, which re-opened some runs for the first time since the original March lockdown nearly two years ago. But all that's in the past now with very warm January weather melting much of the thin natural cover so it's back to square one awaiting the next cold spell.
Eastern Europe
Quite a mixed bag of weather across Eastern Europe over the past week, although overall an improving picture.
Many areas saw stormy and snowy conditions at the end of last week which ended an unwelcome warm spell that had seen temperatures in the teens on lower slopes for a time.
For some centres like Spindleruv Mlyn in the Czech Republic, this means there's now fresh cover and it has been cold enough for snowmaking systems to fire up - but it is still catching up from the earlier poor conditions so still has less than half its slopes open.
Others, like leaders
Bansko
in Bulgaria and Slovakia's Jasna, have much more of their terrain operational.
North America
Canada
Canada's
Banff
region led much of North America in the early months of the season last November and early December when it was blessed with cold, snowy weather whilst much of the rest of the continent was warm and dry, or worse still wet.
The rest of Canada has now caught up though and the West of the country which had been reporting 'dangerously cold' weather at the start of the year is now in a more comfortable zero to 10 degrees below and the East which battled warm weather right up to New Year is now the coldest part of the country with lows of 10C to 20C below freezing.
The result is that all resorts in the west are fully open, in the east most are still catching up but getting there, and there have been more decent snowfalls (10-30cm, 4-12") for most across the country, further improving the overall picture.
USA
The sunshine has returned to much of the US over the past few days, but that was after another week of stormy, snowy weather, this time impacting the Midwest and more southerly states on the East Coast than previously.
That was largely good news in the area that had been suffering warm and dry/wet weather.
The past few days have seen the opposite with some exceptionally cold weather in the East.
For the destination resorts in the Rockies and on the West Coast, it is largely good news. Mammoth is one of two resorts in the world posting a base of more than 14 feet (the other is also on the Pacific Coast) and it's 100% open. It, along with ski areas in the Rockies, got several feet more snow before the dry weather moved in.
The sunshine is something of a respite as the stormy cycles brought blizzard conditions to the closed access roads, brought down power lines and generally made it frustratingly difficult for ski areas to open at all.
Now the bigger problem is reported to be liftees self-isolating due to omicron infections so some areas are having issues finding enough staff. If it's not one thing it's another this season it seems.