J2Ski Snow Report 17th February 2022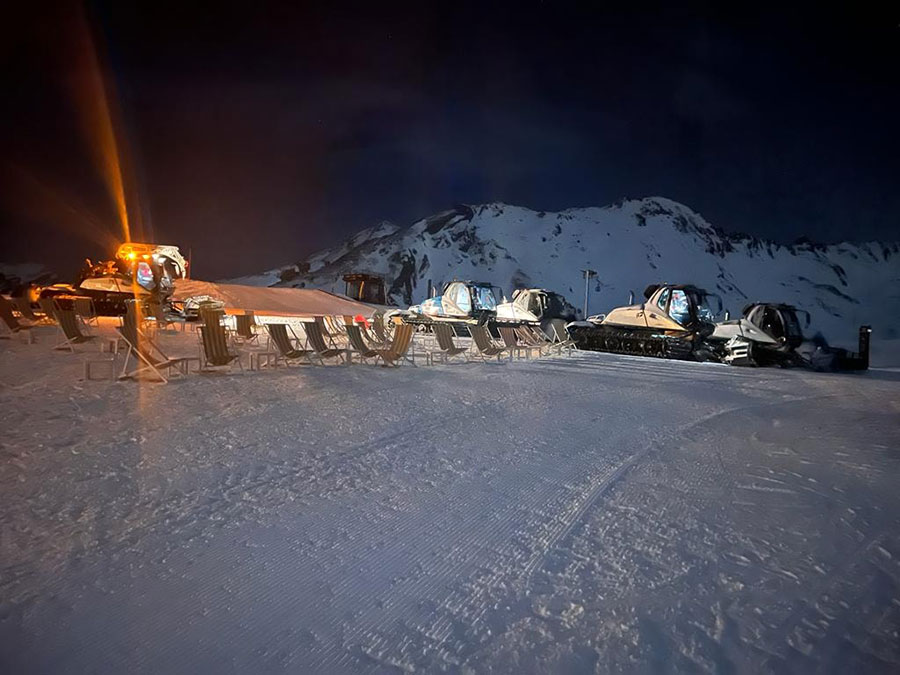 A small herd of nocturnal piste-bashers gather at Val d'Isere, France...
Snow for Europe, Japan and USA...
The Snow Headlines - 17th February
- Plenty of snowfall across the Alps, up to 60cm (two feet) accumulations reported.
- Deepest snow in Canada is now reported on East rather than West Coast.
- First significant snowfall of the year so far in the Pyrenees.
- New Zealand gets more snow in summer – ski areas report another 10cm.
- Japanese ski area passes 5-metre base depth – world's deepest.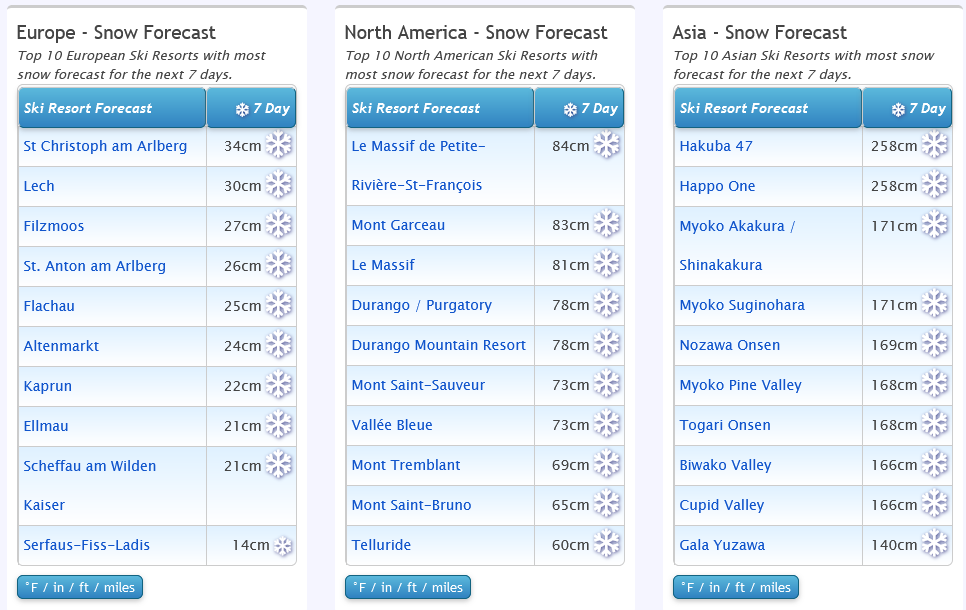 Snow in the forecasts, with lots for Japan (again).
Re-publication :- our Snow Report Summary, being the text above this line, is free to re-publish, but must be clearly credited to www.J2ski.com with text including "J2Ski Snow Report" linked to this page - thank you.
World Overview
Europe
It was a snowy start to the week in the Alps with some areas in the West of the range seeing their best snowfalls for quite some time. There was also a third or fourth snowfall in three weeks for the Central and Eastern Alps. It's not stopping any time soon either with more snow in the forecast for the weekend and the start of next week for many places.
Ski centres in the Dolomites and Pyrenees have also had fresh snowfall and up in Scandinavia more snow there has taken the deepest base up to the two-metre mark in western Norway. Scotland too has reported some fresh snow cover along with gales, allowing centres on the west to open a few runs beyond the base areas for the first time this year.
North America

It's been a fairly quiet week across North America with most areas seeing some snow, but nowhere a really big accumulation.
In the west, it has remained largely dry, as has been the picture for all of 2022 so far, but there have been a few inches of snowfall in the Rockies and up in the Pacific Northwest, small falls in the Sierras too.
In the northeast, there's been more snowfall and more very low temperatures but there has also been a brief blip with temperatures spiking above freezing and some rain at lower latitudes, but that has passed and it is cold again now.
Europe
Austria
Austria has had one of the best Februaries of the major skiing nations with many resorts now having had as many as four decent dumps since the start of the month giving cumulative totals of more than a metre of fresh snow. So it's a transformed situation from dry January.
There is more snowfall forecast for much of the country through the coming weekend.
Snow depths on glaciers like Solden,
Kaunertal
and the
Kitzsteinhorn
are approaching 3 metres, good news for spring and summer skiing ahead. The big areas around
Ischgl
, St Anton, Saalbach and the Skiwelt are all fully open with 200km or more of their slopes skiable.
France
The French Alps saw some of their best snowfalls of the year with resorts across the region reporting multiple 20-30cm accumulations through the start of this week with more snowfall expected after a return to sunny weather, by the weekend. Most of the country's slopes remain fully open with the deepest snowpacks – around 2.5 metres – reported in both the Alps (
La Clusaz
) and Pyrenees (Superbagneres).
The world's biggest ski area, the 3 Valleys, reports 550km of their 600km of slopes are currently open.
Italy
Italy also saw snowy weather on Monday and Tuesday, continuing to Wednesday at some locations, but it's sunny again now, for a day or two, before more snowfall expected from Sunday/Monday in the north of the country.
The snow is particularly welcome for resorts like the Milky Way region which, although managing to open about two-thirds of its terrain, has had less than half a metre (18 inches) of snow lying on its slopes for much of the winter so far. Big 25-60cm accumulations were reported at ski areas like
Livigno
and
Bormio
.
The Dolomites saw some fresh in the falls earlier this week too, more unusually this year than for more northerly resorts here.
Switzerland
Swiss ski areas too have enjoyed multiple snowfalls over the past week.
Laax is currently posting the country's deepest base of 275cm, ahead of the usual leaders for spring snowpack in both Switzerland and the whole of Europe –
Andermatt
and
Engelberg
– which are currently running at their normal 5-6 metre upper slope base depth by early March, so a lot of snow needs to fall to reach that level in the next few weeks.
Snow cover is certainly good enough almost everywhere with the vast majority of Swiss slopes open, the 4 Valleys posting the most, with 360 of the 410km of slopes there open.
Scandinavia
Snow depths in western Norway have reached the two-metres mark with powder conditions reported for ski areas like
Voss
as the snow keeps falling there. The rest of Norway as well as Sweden is looking increasingly good as more snow falls and temperatures stay low.
On clear nights the northern lights are reported to have been excellent too.
The snow has been continuing to fall in the far north, with ski areas in Finnish Lapland posting images of trees now fully coated in white and transformed into "snow ghosts". The summer ski resort of Fonna - which is due to open for its 2022 season in May - posted images of its drag lifts three-quarters buried by snow, so that's looking promising.
Pyrenees
The Pyrenees have had an interesting winter so far. They actually saw the biggest snowfalls in Europe back at the start of December and as such, in the largely snowless few months since, have been sitting on the continent's deepest bases. But the lack of fresh snowfall worth measuring for so long hasn't been great news, especially for freeriders, even though all the slopes are open.
The good news this week though is, finally, a decent snowfall in 2022. Resorts in the region reported 30cm (a foot) of fresh snow to start the week.
Scotland
It's the best it has looked all year for Scottish centres, at least on the west where
Glencoe
and
Nevis Range
have been able to open a few runs using natural snowfall for the first time in 2022.
After a snowy weekend, temperatures rose at the start of the week and now more storms have blown in so it is unclear what state slopes will be in when these clear at the weekend.
It's half-term holidays so the limited availability is also generally booked out in advance.
Eastern Europe
It has been a mixed week in eastern Europe with more northerly nations like Serbia, the Czech and Slovak Republics reporting some decent dumps, up to 30cm of fresh, but more sunny skies have been reported further south and east for countries like Bulgaria and Romania.
North America
Canada
It's been a fairly dry week across Canada with just the odd snow flurry in the west and the weeks of snowfall in the East coming to an end for a while it seems.
More snow is forecast in the west from this coming weekend.
The snow in the east has let the region's best-known resort, Tremblant in Quebec, post the deepest snowpack in the entire country at just over 3 metres/10 feet – quite a turnaround from the warm, wet end to 2021 when Eastern areas struggled to open much terrain at all.
The big resorts out West are just a few centimetres/inches behind and remain fully open.
USA
Another fairly dry week across the US although with a few promising inches of snowfall reported for the Rockies and Pacific Northwest.
The overall trend of sunshine and rather warm weather continues but with everywhere, pretty much, fully open.
It's generally colder in the East, but not so much as it has been and with an unfortunate and hopefully short-lived warm temperature spike to end this week which may well see some areas getting rain rather than snow, before temperatures drop away once more.
Park City in Utah has the largest ski area open in the country, whilst the deepest snow – around 4 metres deep – can be found up in Alaska.