J2Ski Snow Report 1st May 2022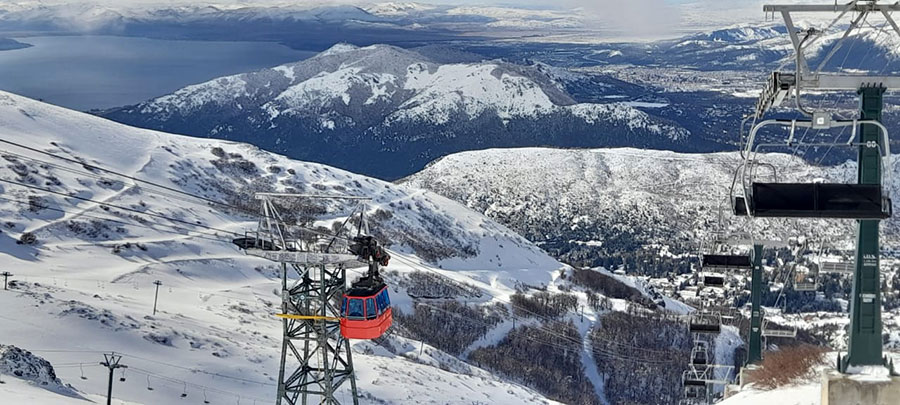 Super early snow for Cerro Catedral, Argentina, got their season started!
April snow in both hemispheres!
The Snow Headlines - 1st May
- April ends with fresh snowfall in the Alps, Pyrenees and across North America.
- Ski area in Argentina claims earliest ever opening to kick off 2022 Southern Hemisphere season.
- Pre-season snowfalls in southern hemisphere, a month before the 22 season starts.
- World's deepest reported May base is 8 metres in Japan's only summer ski area.
-
Whistler Blackcomb
to re-open for summer skiing/boarding for first time since 2019.
- More snowfall in US west in April 2022 than in January to March combined.
- Southern hemisphere ski areas accessible to international guests again after 3 years.
The northern hemisphere's 21-22 winter season is drawing to a close in a much more positive light than when it started; with most of the world's main ski destinations, except Japan, open to travellers.
And in the south, some unusually early snow opened the season in South America.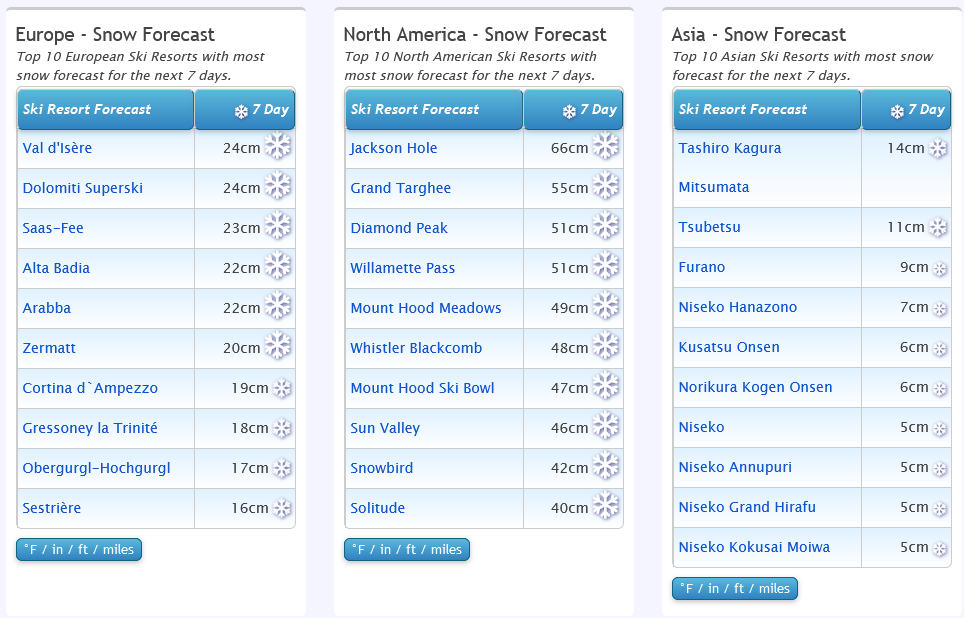 It's late, it's high... but it's still coming!
Re-publication :- our Snow Report Summary, being the text above this line, is free to re-publish, but must be clearly credited to www.J2ski.com with text including "J2Ski Snow Report" linked to this page - thank you.
World Overview
Europe
About 100 centres remain open in the northern hemisphere as we start May but about half of those will close on May 1st at the end of the ski day (today) and half of the remainder during the first week of the month.
May sees the low point of the ski year before the southern hemisphere's season starts in June and summer ski destinations open up in the north.
There are though more areas open in North America to start may than we might have expected a month ago. Snowfall got ever heavier through may, ironically as most areas closed, and soon the month's tally overtook all of January to March combined. So some centres have reopened and others extended their season into May.
Europe too has seen quite a snowy end to April, although the thaw has continued. No notable season extension here but high-altitude, glacier and northerly latitude areas remain open into May as usual.
Other than a few areas like Jasná (open to May 1st), most ski areas in Eastern Europe are now closed for the season. However, another centre in Slovakia,
Tatranská Lomnica
, has announced its intention to re-open for the next few weekends to mid-May, thanks to a lot of snow piled up by snowmaking.
The Pyrenees is pretty much closed now too in terms of ski uplift.
Masella
on the Spanish side had said it expected to stay open to May 1st but changed its mind and shut on the 24th. Further west, very unusually for late April, big snowfalls in Portugal led the sole centre there to declare it had more terrain open in the final week of April than it had had all winter and was actually the final area in the Iberian peninsular to operate, although it too had to give up on its hope to open on May 1st.
Alas, Scotland's ski season ended on April 24th, with no May skiing there.
The Alps
About two dozen ski areas are open in the Alps as we start May, but around half of these will close on Sunday the 1st.
For snow conditions it's a mixed picture – most have fairly good 2-3 metre snow depth on the high slopes that are open, many on top of glacial ice, but the cover is not so great in parts of the western and southern Alps, closer to a metre, which isn't a healthy depth to withstand the summer heat ahead. The end of April did bring a bit of a boost though with low temperatures and fresh snow up high.
In France and Italy, several areas are open beyond May 1st – there's a week more of the season at
Tignes
and
Val Thorens
and a week after that at the
Presena
glacier in Trentino. But after that, there are no ski areas due to be open in either country until Les 2 Alpes re-opens on the final weekend of the month to start its summer ski season, replacing Tignes in offering the country's longest, and reopening in less than a month after it closes for winter.
In Italy, it's Passo Stelvio and Cervinia that offer summer skiing in early June.
Austria, though, has the most areas open in early May and through the month. There's the year-round skiing on the
Hintertux
glacier, the
Kaunertal
and
Stubai
open through to June and the Molltal is open the first week, but then closing for (probably) a few weeks before re-opening for its 11 months 22-23 season.
In Switzerland the snow cover, even up on glaciers, appears rather thin at some centres. After
Adelboden
,
Andermatt
,
Verbier
and others close after the first day of May, ski centres aiming to be open through most or all of May include Crans Montana,
Engelberg
and
Zermatt
. The
Diavolezza
Glacier (0/60cm / 0/24") near St Moritz will stay open to the 8th.
Northern Europe
The best snow in Europe in the latter half of spring naturally tends to be up at more northerly latitudes, and while 2022 has seen centres in the southern half of Scandinavia struggle to maintain good cover, the north had a fairly cold and sometimes snowy April.
Most of the region's big-name areas have now closed for 21-22 (or will do on May 1st in the case of centres like Are in Sweden), but the Finnish resorts of
Ruka
and
Levi
which opened for the season seven months ago, plan to make it to the 8th.
Norway's three summer glacier resorts will also be opening with Fonna to start the month, then
Galdhøpiggen
in mid-May and Stryn at the start of June.
Sweden's Riksgransen is also open and offers skiing and boarding under the midnight sun (from 7th to 21st May this year) as 24-hour daylight returns to the region 200km north of the Arctic Circle. 22nd May is closing day there with no plan to re-open for midsummer in June in 2022.
North America
It has been an odd season for North America, with many ski areas in the Western US posting more snowfall in April than in January to March combined.
The snow was falling heavily through the latter half of April but unfortunately, the majority of ski areas have already closed.
So where can you still ski?
Well in the US, The Palisades had said it would close earlier than usual, on May 1st, due to the lousy winter, but then got dumped on and has so far extended its season first to mid-May, now to the end of the month, weekends only, saying it got 8 feet of snow in April. It joins Mammoth as the other Californian option.
In Colorado Loveland is open to about the 8th,
Winter Park
probably an extra week beyond that,
Breckenridge
to the end of the month and
Arapahoe Basin
usually into June. In Utah to the north
Snowbird
remains open and is likely to remain so through the month.
The Pacific Northwest scored highly with huge snowfalls in April and ended the month posting the deepest snow in the US.
Timberline
in Oregon, which aims to stay open through to the start of September with North America's longest season is therefore well placed to make it through. Mt Bachelor and (further north in Washington state) Crystal Mountain are both also aiming to stay open through May.
Alaska's
Alyeska
ski area which has posted the deepest base of any ski area in North America for much of the season is open weekends to mid-May.
In Canada Whistler Blackcomb in BC and Sunshine near
Banff
in BC are both due to stay open for the first three weeks of the month, with Whistler saying its Blackcomb Glacier will reopen for summer skiing boarding, although for private camps, not public access, in June, for the first time since 2019. Mt Bachelor aims to stay open through May.
Lake Louise
will stay open to the 8th and Vancouver's
Grouse Mountain
a week later to the 15th.
The summer ski area at Beartooth Basin on the Montana/Wyoming border expects to open for its 2022 season on May 27th.
Over in the east of the continent,
Killington
in Vermont is now the only area open, reporting the snow piled deep on its Superstar trail and hoping it'll last for most or all of the month.
Asia
Many of Japan's leading ski areas stay open up to the first week of May.
Niseko
still has snow lying more than two metres deep and is open until next Thursday, May 5th, although with the country's borders still closed to tourists that's only useful to those already in Japan.
With temperatures in the +5 to +10C range too, you need to be keen to want to ski or board it at this time of year too – it's no longer the floaty, light powder for which Japan is famous. After most of the country's centres close later this week though, the Gassan summer ski area which only opened for its 2022 season in mid-April stays open through to July. It has opened with the world's deepest snowpack where it's still lying more than 8 metres deep.
Southern Hemisphere
South of the equator, excitement is building in the ski areas of South America, Southern Africa, New Zealand and Australia where the hope is that the 2022 season – the official start of which is now just over a month away – will be the closest to a normal one since 2019, with international guests allowed to return for the first time since then.
Whilst pandemic concerns remain an unknown, the good news is that there have been some promising pre-season snowfalls in the Andes and New Zealand in the past month as well as temporary snow cover in Lesotho and Australia too.
Actually the 2022 southern hemisphere ski season did already start, kind of, where Argentina's largest ski resort by uplift, Catedral near
Bariloche
, opened in April (29th and 30th) for the first time in its history after a 1.5m (5 foot) snowstorm in the final week of last month. It was limited terrain, a maximum of 30 people and for two days only, but it was the first to open on that side of the equator in 2022.
The ski season is not due to properly get underway until the start of June.
This winter it should be possible to travel to all ski areas in Australia, New Zealand, Southern Africa and South America from abroad if nothing changes - and many areas have already posted some good pre-season autumn snowfalls, particularly the Andes.