J2Ski Snow Report 21st July 2022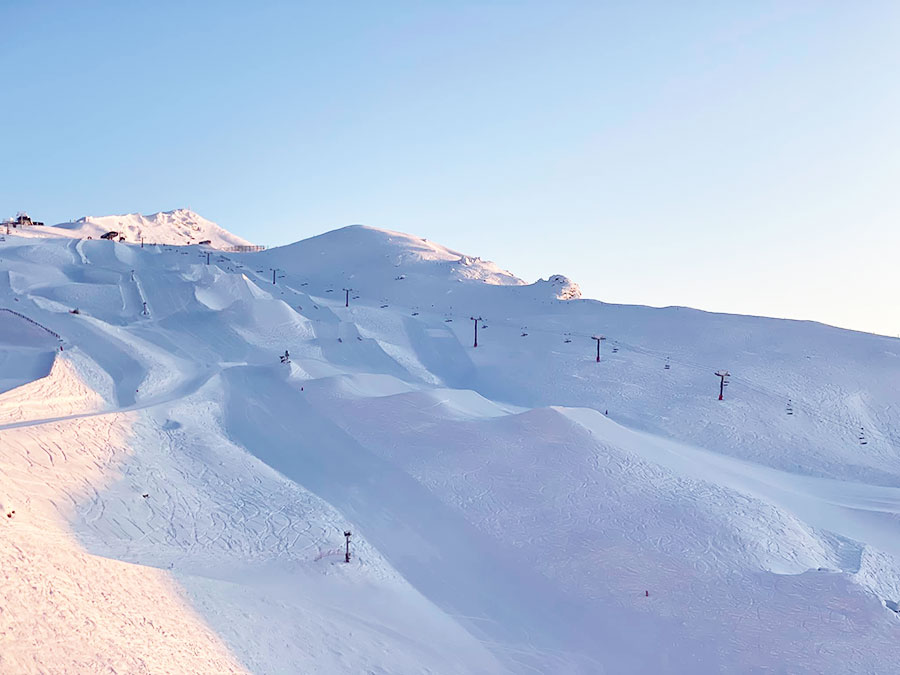 Cardrona, New Zealand - freshies all over...
More snow for Oz, NZ and in the Andes...
The Snow Headlines - 21st July
- Snowstorm in Chilean Andes closes access roads and mountain passes.
- Only four ski areas open to public in Europe at present – an all-time low.
- Major snowstorm hits Australia, boosting cover in busy peak season.
- Saas Fee is arguably first to open for 22-23 season.
- Stormy weather in New Zealand brings snow, but also heavy rain and gales.
- Claims of conditions "best in a decade" for some ski areas in Chile.
- Ski lifts operational and outdoor skiing possible on six continents.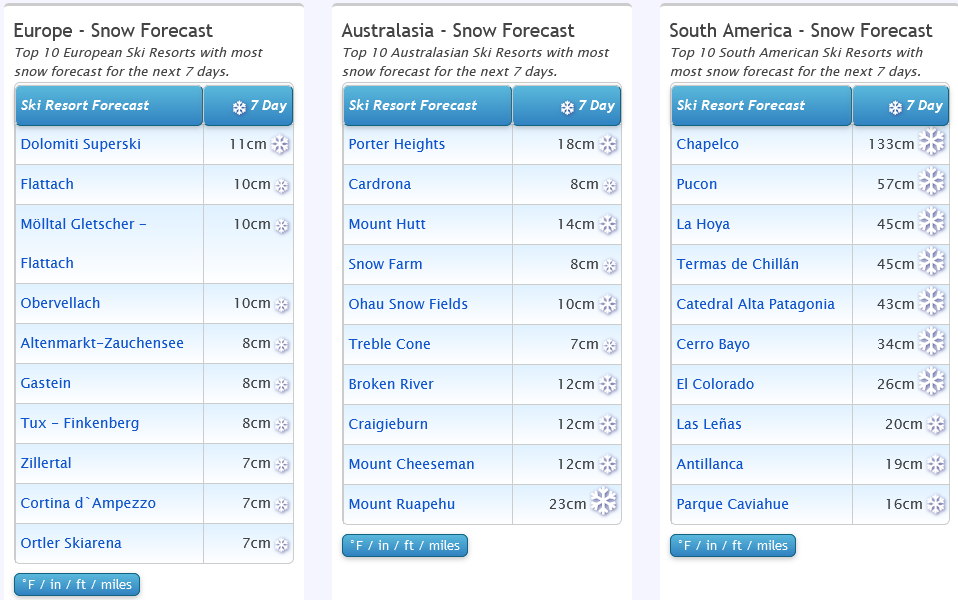 Snow only on the highest peaks in Europe, lots more in the southern half of the globe...
Re-publication :- our Snow Report Summary, being the text above this line, is free to re-publish, but must be clearly credited to www.J2ski.com with text including "J2Ski Snow Report" linked to this page - thank you.
World Overview
A week of extremes in northern and southern hemispheres with low temperatures, heavy snowfalls and at times gale force winds in Australia, New Zealand and South America's Andes and more very hot weather in Europe's Alps and the Pacific Northwest.
The bigger picture – once the weather allows access – is of great conditions in the Andes with some reports claiming the best conditions in a decade for resorts in Argentina and Chile and an ongoing epic winter in Australia, where the snow is deep, fresh and everything open.
It's more of a roller coaster in New Zealand with some great days but also flooding closing access roads and some areas still being unable to open for lack of snow.
In the northern hemisphere, the hot weather means a fast thinning, old snowpack at its best in the early morning and very few areas able to open.
Australia
Australia is having a great season; after big dumps to start the winter, there have been some top-ups over the past six weeks and mostly low temperatures leading most centres to now be fully open and busy with peak season visitors.
A weekend storm brought up to 35cm more snow to resorts including
Falls Creek
and Mount Hotham; with
Perisher
and
Thredbo
now reporting bases past the metre mark.
Temperatures have remained cold, with Perisher reporting -11C overnight midweek, and ski areas typically have 90-95% of their slopes groomed and open.
New Zealand
A real week of extremes in New Zealand with ski areas reporting blizzard conditions at the end of last week, then fabulous blue sky powder days over the weekend.
Fresh storms and a warm front started this week and caused havoc with more powder up high but heavy rain on the lower snowpack for several areas and a number reporting sections of their access roads washed away by resulting floods. Oh and 130km per hour (80mph) winds once again. So there have been widespread storm/repair closures through midweek.
Things have settled down a little, with colder temperatures and more snowfall over the past few days and most resorts including
Mount Hutt
,
Cardrona
,
Treble Cone
and
The Remarkables
have re-opened on the South Island with fresh snow particularly good on the upper mountain.
Alas, there's still not enough snow cover for the ski centres on Mt Ruapehu, New Zealand's largest resort - on the North Island - to open properly. Only beginner slopes are open at
Whakapapa
and
Turoa
so far.
South America
There are reports that some ski areas in Chile (including
Portillo
and
Valle Nevado
) are currently enjoying their best conditions in a decade after heavy snowfalls and consistent cold temperatures. How true the claims are, with no historical comparisons given, is hard to confirm but there are plenty of images with supporting stats of deep powder with buried cars and buildings at these resorts and others across the Andes.
The snow has caused issues though; blocking access roads and heightening avalanche danger, although it's an improving picture there. Argentina's Catedral area by
Bariloche
is now reporting the most terrain open of any ski area in the world with 80km (50 miles) of slopes open.
Africa
Lesotho's Afriski remains open. Temperatures have been varying between -5C overnight and +10C in the daytime with dry and mostly sunny weather but the snowpack is holding up with overnight snowmaking top-ups possible as required.
Europe
Still very hot, hot, hot in the Alps which is ongoing bad, bad, bad news for glaciers which continue to find the freezing point high in the air above them day and sometimes night so the thaw of snowpack and sadly the ice below, continues.
Only a few areas are open to the public, with limited terrain.
These include Europe's highest lift-served ski slopes, above Switzerland's
Zermatt
, currently accessible from Cervinia too, and another year-round ski area at
Hintertux
in Austria (which claims the largest area open - 20km of slopes).
Italy's Passo Stelvio is also open, as is
Saas-Fee
, with about half of its usual summer terrain skiable.
It could be argued that Saas-Fee is the first area to open for the 22-23 ski season!
Up in Scandinavia, the Stryn glacier has ended its season and Galghoppigen closed temporarily leaving only Fonna currently open and also reporting warm weather.
North America
Just as you can claim Saas Fee is the first resort to open for the 22-23 season, depending on how you look at things, you could also argue
Timberline
in Oregon is the last area in the world still open from the 21-22 season.
Of course, again, Hintertux and Zermatt are too, but as they both aim to open year-round they don't really have a start or end to their seasons.
It has been another hot, sunny week in the Pacific Northwest and the snowpack is thawing, but still lying a couple of metres (six feet) thick up high and there should be about a month more of the season there.
Copper Mountain
also has a snow park open in Colorado but only for those enrolled in private camps. A similar facility on the Blackcomb Glacier above whistler which reopened for the first time in three years has now ended its 2022 season.
Asia
Japan's Gassan summer ski centre, believed to be the only one still open in Asia, is just about still skiable, but it's getting more marginal and we're probably about at the end – closure date is "end of July" so perhaps a week more. Temperatures have been in the 20s and snow cover has gone from the main slopes but you can just about make a descent using one of two T Bars and a bit of hiking from above the main chairlift up from the valley.