J2Ski Snow Report January 12th 2023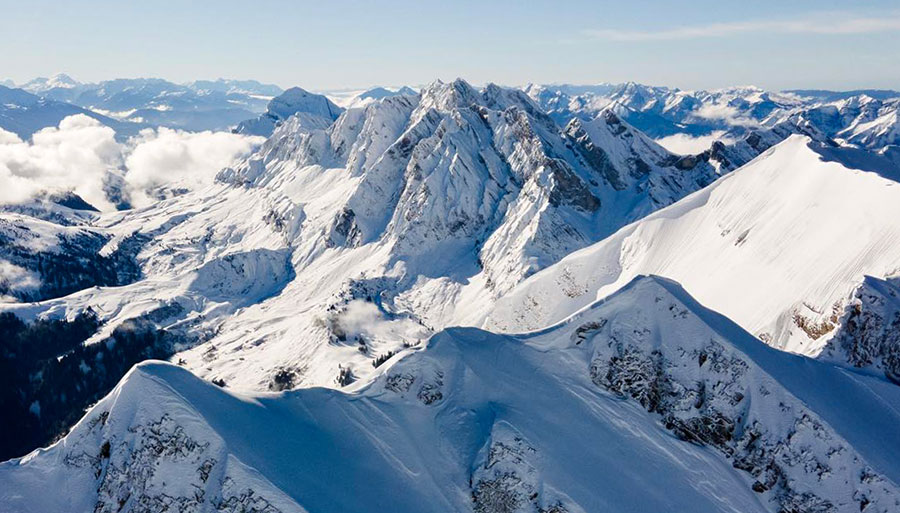 La Clusaz, France, just got a whole lot whiter...
Snow fell, and more's coming...
The Snow Headlines - 12th January
- Colder temperatures and snowfall arrives in the Alps.
- More huge storms push snow depths in Western North America towards 5 metres/17 feet.
- Colder temperatures and snowfall finally arrive in the Balkans to the relief of Bulgarian ski areas.
- Californian ski area reports 7 feet of snow in first 10 days of 2023.
- Some snowfall in the Pyrenees and Portugal's only ski area is open.
And there's more snow in the forecast for Europe and much of the northern hemisphere.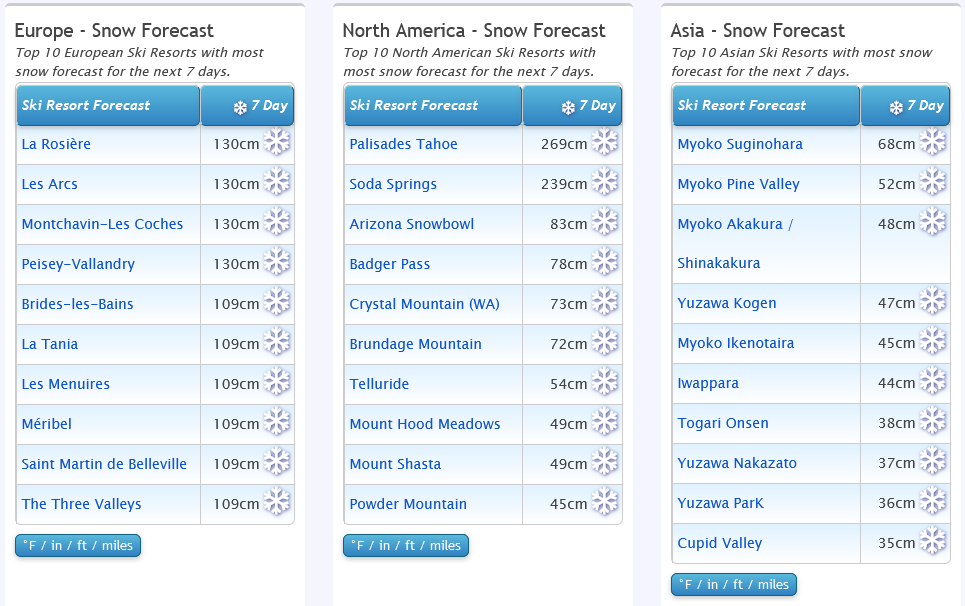 Big snow coming! Check where...
Re-publication :- our Snow Report Summary, being the text above this line, is free to re-publish, but must be clearly credited to www.J2ski.com with text including "J2Ski Snow Report" linked to this page - thank you.
World Overview
The main news of the past seven days has been the return of snowfall and colder temperatures in Western Europe. Ski areas in the Alps have reported up to 70cm of fresh snow up high since Sunday, more like 20-30cm in valleys.
That's been enough to turn things around at low-lying resorts that had been suffering –
Gstaad
,
Les Gets
, Villars, Megeve and others to some extent although much more snow is needed. Fortunately, there's a lot more forecast after the weekend.
Elsewhere there's been some snowfall in the Pyrenees but more is needed (and forecast), Scandinavia continues to look good and it's an improving picture in Scotland. The Balkans finally have snowfall and it's been cold enough for snowmaking in most areas too.
Over in North America, more huge snowfalls in the west over the weekend and start of this week took base depths up towards 5 metres, the world's deepest still, in California but it remains a challenging time on the East Coast where resorts in more southerly states have been unable to open for lack of snow and cold weather and the bigger resorts of New England continue to face challenges too.
Europe
Austria
Austrian slopes are in much better shape than a week ago with many areas posting 30-40cm of fresh snowfall in the last few days.
The Skiwelt, including resorts like
Westendorf
,
Ellmau
and Soll warned skiers that, exceptionally, it would be making snow during the daytime in an attempt to pile it up as much as possible while temperatures were low enough, to maximise the change in the weather. That technique had, in any case, allowed it and other big Austrian areas like
Arlberg
and Saalbach to keep most of their runs open when ski areas at similar altitudes in France had struggled in recent weeks.
Solden's base depth is creeping nearer to two metres up top, at 185cm now, the deepest in the country by some margin.
France
The best week for a month or so in the French Alps after heavy snowfall from Sunday to Tuesday brought up to 60cm (two feet) of snow to higher slopes and, more importantly for many ski areas, 20-30cm to lower slopes too at resorts like
La Clusaz
,
Morzine
and Megeve which had been struggling to open much terrain.
Les Gets, which had had to completely close its slopes during the warm spell, re-opened a run on Tuesday and then half-a-dozen lifts and runs on Wednesday although the connection to Morzine and the wider
Portes du Soleil
remained closed at the time of writing.
Italy
There's been heavy snowfall along Italy's Northern and Western borders, with regions like the Milky Way and La Thuile-La Rosiere posting up to 50cm of fresh cover.
Less new snowfall so far in the Dolomites but then they were already in pretty good shape having missed the temperature peaks and rain that hit further west. So the picture across the country remains fairly good with most areas 50-80% open.
Switzerland
Swiss ski areas have seen base depths jump by an average of 20cm over the past few days as they shared in the fresh snowfall across the Alps.
Saas Fee continues to post the deepest at 1.8 metres (six feet) up high on the glacier.
The new snow has not made a huge difference to what's open;
Verbier
had a little over half of the 4 Valleys terrain open and though a few more runs have opened, that's still the case - but with generally improved snow conditions.
The avalanche danger level is up though, to 3 on a scale to 5 in many Swiss areas.
Some lower centres like Gstaad which had been largely closed at the valley level have now been able to open more low-lying runs.
Scandinavia
Scandinavia continues to post the most consistently good conditions in Europe with Norwegian resorts looking particularly good – up to 1.5m of snow lying at
Hemsedal
,
Voss
,
Geilo
and others – much of it fresh since Christmas.
There's been less for Sweden but up in Lapland, where temperatures have been in the -20s (Celsius), it just keeps snowing.
Pyrenees
Several fronts have brought light to moderate snowfalls to the Pyrenees over the past week. This has improved things a little with the largest Spanish resort in the region, Baqueira Beret, reporting 5cm (2") of fresh snow.
Andorra's
Grandvalira
(Pas de la Casa,
Soldeu
) still has the largest area open, with about half its 240km of slopes open.
Scotland
There's been over a month now of mostly cold weather on Scottish hills and there's been more fresh snowfall over the past few days (accompanied by the usual gale force winds), but there's still not much of a base and Cairngorm,
Glenshee
and
The Lecht
still have a couple of short runs open each using their all-weathers snowmaking machines.
Nevis Range
doesn't currently have anything.
Glencoe is the only centre with runs open with natural snow cover on its upper mountain at present.
Eastern Europe
The good news is after a month of often warm and dry weather in The Balkans it's turned cold and snowy in Bulgaria. Although there's a lot of lost ground to make up snow cannons are firing and
Bansko
reports 20cm of natural snowfall.
Further north Jasna in Slovakia already had 20km or so of slopes open and the fresh snow there has further improved conditions.
North America
Canada
Eastern Canada has been seeing the best of the fresh snowfall over the past few days, finally getting the combination of cold temperatures and precipitation needed after months of cold but dry or warm but wet weather, so conditions are the best of the season so far.
It's more consistently cold and snowy out West, with more snow accumulating on the slopes of Alberta and BC.
USA
It's been still more snow, snow, snow in the Western US with a spate of records announced as the latest huge storms move in from the Pacific.
Mammoth says it has already had more snow than the whole of last season while The Palisades says it has had seven feet of snow since January 1st.
The Rockies are in great shape too, with
Snowbird
in Utah passing the 300 inches (7.5 metres) seasonal snowfall to-date mark.
So plenty of snow; the main issue now is the volumes and stormy weather making it difficult for resorts to open much, although we're currently in a few days of clear weather before the next huge storm rolls in.
It's a very different picture on the East Coast however where, unfortunately, it is more like the Alps with ski areas struggling to open runs due to periods of warm weather.
Next week's looking increasingly interesting for Europe, so keep an eye on our forecasts and we'll have more detail next week...