Hiring Skis and Snowboards in Val Thorens
Ski, Boot and Snowboard Hire in Val Thorens
Book Online Now

Free Cancellation

up to 2 days before arrival

Save Money

from

10%

to

50%

Save Time

for more Skiing!

Choose Skis

from the latest Ski Equipment
Hire your Skis & Boots from the best ski shops in Val Thorens.
Extra Discounts from SkiSet

Save Money by Pre-Booking
7th day Free on selected dates.
Save Money with extra Group Discounts
Extra 5% discount for 4 or more Ski Packs.

Extra 10% discount for 10 or more Ski Packs.

Book Now & Save
Where can I Hire Skis in Val Thorens?
Tap symbols for info. Tap

for Full-Screen. +/- Zoom in to find Hotels and Hire Shops.
Switch view to map of Courchevel, La Plagne, Méribel or Val Thorens.

Altiloc 2300
Immeuble Altineige, Grande Rue
See prices for skis, boots and poles at Altiloc 2300.
See Prices at Altiloc 2300
Season
7 October 2022 until 11 May 2023
Opening Hours
Monday to Friday :- 08:00-19:00
Weekends :- 08:00-19:00

Goitschel Sport 1
CC le Peclet
Reserve your ski gear now at Goitschel Sport 1.
See Prices at this shop
Season
7 October 2022 until 11 May 2023
Opening Hours
Mon Tue Wed Thu :- 08:30-13:00 15:00-19:30
Fri Sat Sun :- 08:30-19:30

Goitschel Sport 2
Place de Caron
Reserve your ski gear now at Goitschel Sport 2.
See Prices at this shop
Season
7 October 2022 until 11 May 2023
Opening Hours
Open every day :- 08:30-19:30

Goitschel Sport 3
Rue du Soleil
Reserve your ski gear now at Goitschel Sport 3.
See Prices at this shop
Season
7 October 2022 until 11 May 2023
Opening Hours
Mon Tue Wed Thu :- 08:30-13:00 15:00-19:30
Fri Sat Sun :- 08:30-19:30

Goitschel Sport 4
res Altineige
Reserve your ski gear now at Goitschel Sport 4.
See Prices at this shop
Season
7 October 2022 until 11 May 2023
Opening Hours
Mon Tue Wed Thu :- 08:30-13:00 15:00-19:30
Fri Sat Sun :- 08:30-19:30

MMV Les Arolles
Les Arolles
Reserve your ski gear now at MMV Les Arolles.
See Prices at MMV Les Arolles
Season
7 October 2022 until 11 May 2023
Opening Hours
Mon Tue Wed Thu :- 08:30-12:30 16:00-18:30
Fri Sat :- 08:30-20:00
Sunday :- 08:30-18:30

Oh Shop
Rue de Caron, Galerie de Caron
Reserve your ski gear now at Oh Shop.
See Prices at Oh Shop
Season
7 October 2022 until 11 May 2023
Opening Hours
Monday to Friday :- 08:00-19:00
Weekends :- 08:00-19:00

Peclet Ski Service
Galerie de Peclet, Galerie de Peclet
See prices for skis, boots and poles at Peclet Ski Service.
See Prices at this shop
Season
7 October 2022 until 11 May 2023
Opening Hours
Monday to Friday :- 08:00-19:00
Weekends :- 08:00-19:00

Skiloc 2300
Rue du Soleil, Rue du Soleil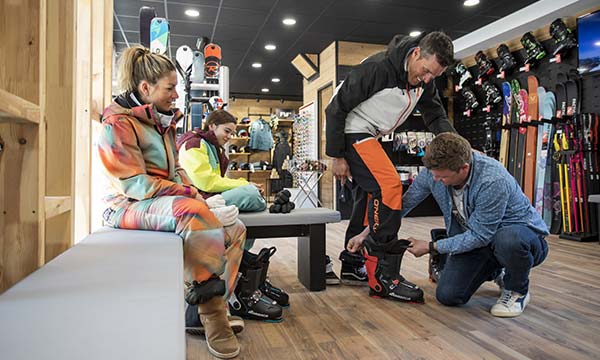 Reserve your ski gear now at Skiloc 2300.
See Prices at Skiloc 2300
Season
7 October 2022 until 11 May 2023
Opening Hours
Monday to Friday :- 08:00-19:00
Weekends :- 08:00-19:00

Snowberry
CC le Peclet
Reserve your ski gear now at Snowberry.
See Prices at Snowberry
Season
7 October 2022 until 11 May 2023
Opening Hours
Open every day :- 09:30-12:00 15:30-18:00