Riksgränsen
Ski Resort Guide
Riksgränsen

,

Sweden
Rated: 3/5 (from 6 ratings)
Ski Area Highlights

| | |
| --- | --- |
| Recommended For | Intermediates, Snowboarders, Snowfall and Apres-Ski! |
| Total Piste Length | 199km |
| Highest Lift | 910m |
| Resort Height | 500m |
| Nearest Airports | Harstad/Narvik and Kiruna |
| Free Snow Reports by e-Mail | Sign Up Here |
Riksgränsen
The world's most northerly ski resort has offered skiing from February to June for all abilities since 1903, when the railway reached here. Great off-piste and heli-skiing. 250km within the Arctic Circle lifts operate under the midnight sun from mid-May.
Summary
The Swedish ski resort of Riksgränsen is at an altitude of 500m, with 199km of marked runs.
Riksgränsen is one of the larger Ski Resorts in Sweden and has direct access to 199km of downhill skiing, with 19 marked pistes, served by a total of 6 ski lifts.
Snow cover is generally reliable due to the Scandinavian climate..
Snow and Weather
When will it snow in Riksgränsen?
The next notable snow forecast is 11cm, expected on 6 October.
See our long-range Snow Forecast for the latest update, or Join our Snow Mail Here
Snow this week
Snow Forecast by day for Riksgränsen

| Thu | Fri | Sat | Sun | Mon | Tue | Wed |
| --- | --- | --- | --- | --- | --- | --- |
| | | | | | | |
| | | | | | | |
| | | | | | | |
| | | | | | | |
Ski Area Stats
Riksgränsen Ski Area
Piste and Lift Stats
Black Pistes
Expert Trails

 1 

Red Pistes
Intermediate Runs

10

Blue Pistes
Easy Trails

 4 

Green Pistes
Beginner Runs

 4 

Downhill
Total Length
199km
Cross Country
Total Length
30km
Ski Lifts
Number of Lifts
6
Altitudes
Riksgränsen Ski Area Heights
Lift Heights and Resort Altitude

| | |
| --- | --- |
| Highest Lift | 910m |
| Lowest Piste | 500m |
| Resort Altitude (Riksgränsen) | 500m |
| Max Vertical | 410m |
Ratings & Suitability
Ratings for Riksgränsen

| | |
| --- | --- |
| Intermediate Skiers | |
| Beginners | |
| Snowboarding | |
| Snow | |
| Apres-Ski | |
Riksgränsen Overview
Located 250km (150 miles) north of the Arctic Circle, more than 1500km (nearly 1000 miles) north of Swedish capital Stockholm, it comes as a surprise to most that Riksgransen was once Sweden's top ski destination and it remains on the must ski before I die list of most dedicated winter sportsmen and women.
The reasons are not immediately apparent, the ski area would not make the world top 1,000 on size or vertical, the lifts are rather old and resort amenities limited. It's so cold and dark here that the season does not get underway until February, yet by June many people are skiing in shorts, as the temperatures are actually warm for the latitude, thanks to the Gulf Stream and maritime climate. The Atlantic is only eight kilometres (five miles) to the East.
Now consider Riksgranen's selling points - a long cult winter destination heritage, 24 hour daylight from mid-May thanks to its northerly latitude with skiing and boarding possible at midnight from late May. The lift served ski area may be limited but Riksgranen is famous for its affordable heliskiing and near limitless ski touring, on a huge area. If you do stay on the lift served area you'll find you can travel in relative safety down literally hundreds of different off piste lines. The novelty of skiing down a piste that starts in Sweden, pops over the border in to Norway and ends up back in Sweden is another of the long list of attractions that make Riksgransen special.
Yet there is something more that marks Riksgransen out as somewhere different and somewhere special compared to the world's other top winter destinations. It's something to do with the pure air, the endless white world stretching off in all directions, the northern lights if you do arrive before the day disappears for good. There's also a timelessness about the place which is very attractive to most. It may not be great news for those who want their resort to be constantly expanding, but Riksgransen certainly has the feel of a resort unspoilt by progress. The convenient hands free lift ticket system is one of the few obvious acknowledgements of the 21st century.
All these factors in turn draw hoardes of snow lovers and hardcore mountain types who in turn build the image and reputation of Riksgransen.
The resort, if you can call it that, is really made up of one large sprawling base building a hundred metres below the lifts and the rail station. It has a weathered 1960s feel from outside and the self catering apartments, many filled with groups of students and similar and short on the luxuries if comfortable enough. However the current owners have invested in the more hotel like section of the complex and added a spa to the facilities.
Riksgransen's history relies almost entirely on the arrival of the railway here over a century ago in 1903, built to carry iron ore from the vast mine that still exists in the nearest city of Kiruna over to the port of Narvik at Norway - famous in world war two as the only place retaken by the Allies from the Nazis during the first few years following a daring raid.
A luxury hotel was built to completion of the railway after 20 years construction, along with Sweden's second largest railway station, but despite the arrival of the area's movers and shakers it lost popularity and was torn down within a short time. A small new hotel was added in the 1930s and Sweden's first proper ski school set up a few years later. The rest, as they say, is history - even the arrival of the road as recently as the 1980s. The first ski lift was built in the 1950s, one of the first to be built specifically for skiers.
Skiing
There are few ski resorts that attract such a mix of participants from the full range of snow disciplines. Cross country skiers, tourers, boarders, telemarkers and Alpine skiers all share the slopes amiably. You will see people in the latest gear and some happy to bring out skis and boots that have seen more than 20 winters.
The lift served ski area is a short walk above the main resort complex. Double chair ascends from within a wooden shed, so in common with the triple chair above, you board indoors - good news in poor weather. The double chair rises above terrain marked red and black but unlikely to cause significant problems for anyone if intermediate standard. To the left of the lift there's a wide slope with lots of off piste opportunities, again that most intermediates would be able to tackle and enjoy if conditions are right.
The upper slopes served by the triple chair are a little gentler. Again it is wide open terrain without trees or many dangerofours drops so is possible to ski off piste between the runs in comparative safety, as many people do. Run number 4 from the 909m summit is the one that takes you over the Norwegian border for a hundred metres or so. If you wish to stay in Norway keep left on route 3 continuing all the way back to the bottom of the double. There are off piste routes further in to Norway, catching the train back.
If you want to go the whole hog there's an interesting ski area with great views of the North Sea at Narvik, in Norway, an easy excursion by train. A little closer on the line back in to Sweden are several other historic Swedish ski areas worth a day trip, if not so well known internationally. Closest is Abisko.
Heliskiing is one of the major draws with short hops to one of dozens of peaks in the area highly affordable at around £110 ($200 US) for three ascents. Others prefer to hike up. There are 60 peaks in the area with an altitude over 1300m.
Riksgransen's ski school is highly regarded in the skiing world. Although not many international guests think of coming to Riksgransen as novices, the ski school does offer classes for beginners, popular with the Swedes as well as a wealth of other possibilities up to steep and deep off piste guiding and tuition.
Riksgränsen offers good sking, particularly, for Intermediate skiers.
Snowboarding
Riksgransen has become a hardcore boarders mecca just as it has long been for skiers. Pro boarders arrive each winter in force to make the most of the superb natural terrain (there's no machine made features, but none needed), heli-boarding and touring - as well as a totally boarders friendly environment.
Most of the sport's stars have been here at one time or another. Ingemar Backman made his record breaking 'Ingemar's Air' jump here in the mid '90s.
How to get there
By Air
The nearest airport to Riksgränsen is Harstad/Narvik, 68 minutes drive away.
Kiruna airport is also within three hours drive.
Harstad/Narvik is just one hours drive away, in good driving conditions, so you can be on the piste quickly.
Infrastructure
Ski Lift Capacity
The six ski lifts are able to uplift 7,400 skiers and snowboarders every hour.
Season Dates
When is Riksgränsen open?
We don't currently have confirmed season dates, but hope to soon.
Usual opening is late February, and usual closing is Late June (Normally closes late May but re-opens for Mid-Summers' Day).
NOTE:- Ski area, lift and piste opening is subject to Current Snow Conditions.
COVID-19 / Coronavirus
We don't yet have specific details of the COVID-19 precautions being taken in Riksgränsen, but they are likely to include most of the following :-
Face masks required on lifts, and in shops.
Social distancing in public areas.
Reduced lift capacity.
Extensive disinfection / sanitization.
French Ski Resort COVID-19 Measures describes further measures that may also be applied.
Visit the Riksgränsen Tourist Office for the latest.
Talking about Riksgränsen
Mentions in recent J2Ski News Items and Snow Reports from our users...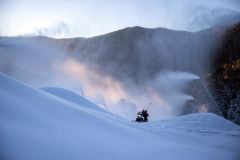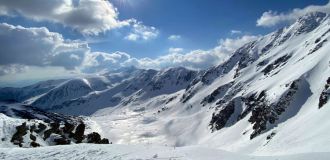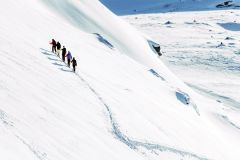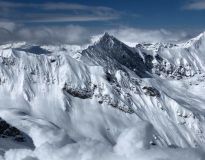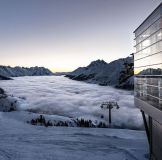 Aprés Ski
Apres is a mix of room-based parties and larger gatherings in the extensive bar beneath the complex which extends in to a night club - often with live bands performing. This has a grungy feel and a good selection of drinks as well as excellent service - however prices are exhorbitant, in common with all Scandinavian bars, thanks to high alcohol taxes, so most guests tend to nurse a £5 ($9 US) beer through the evening. The atmosphere is usually buzzing however.
Tinned light beer bought in the supermarket is about a quarter of the price which is one reason why room-based-parties are popular.